Warren Shiver
What does it take to truly transform your sales organization? Do you even need to transform, or simply tweak? What levers can you pull to ensure and even accelerate success? These are several of the key questions that we set out to answer through a two-year research project that culminates with the publishing of our book, the 7 Steps to Sales Force Transformation.
Over the years, we have helped several sales organizations – large and small – transform the way they sell. For this book we interviewed sales leaders with whom we have worked, as well as others we have come to admire. We also conducted an extensive survey of sales professionals – the results of which confirmed what we've learned along the way and highlighted some obvious miscalculations that organizations make when approaching sales force transformation.
In this series of blog posts, we'll introduce our 7-step approach to sales force transformation. While every organization is different (which is why there is no "recipe" for sales force transformation), successful initiatives tend to have several things in common. They follow the approach outlined below:
Let's begin with Step 1: Your Drivers for a Sales Transformation.
This represents the "burning platform" of forces, events, and/or circumstances that can compel your need to change or improve your sales performance. The drivers of a transformation often vary across companies and industries. At the highest level, they fit within several defined categories.
In our sales transformation survey, we asked over a hundred sales leaders and professionals, "What was the main impetus for the company's sales transformation effort?" The responses are summarized in the chart below: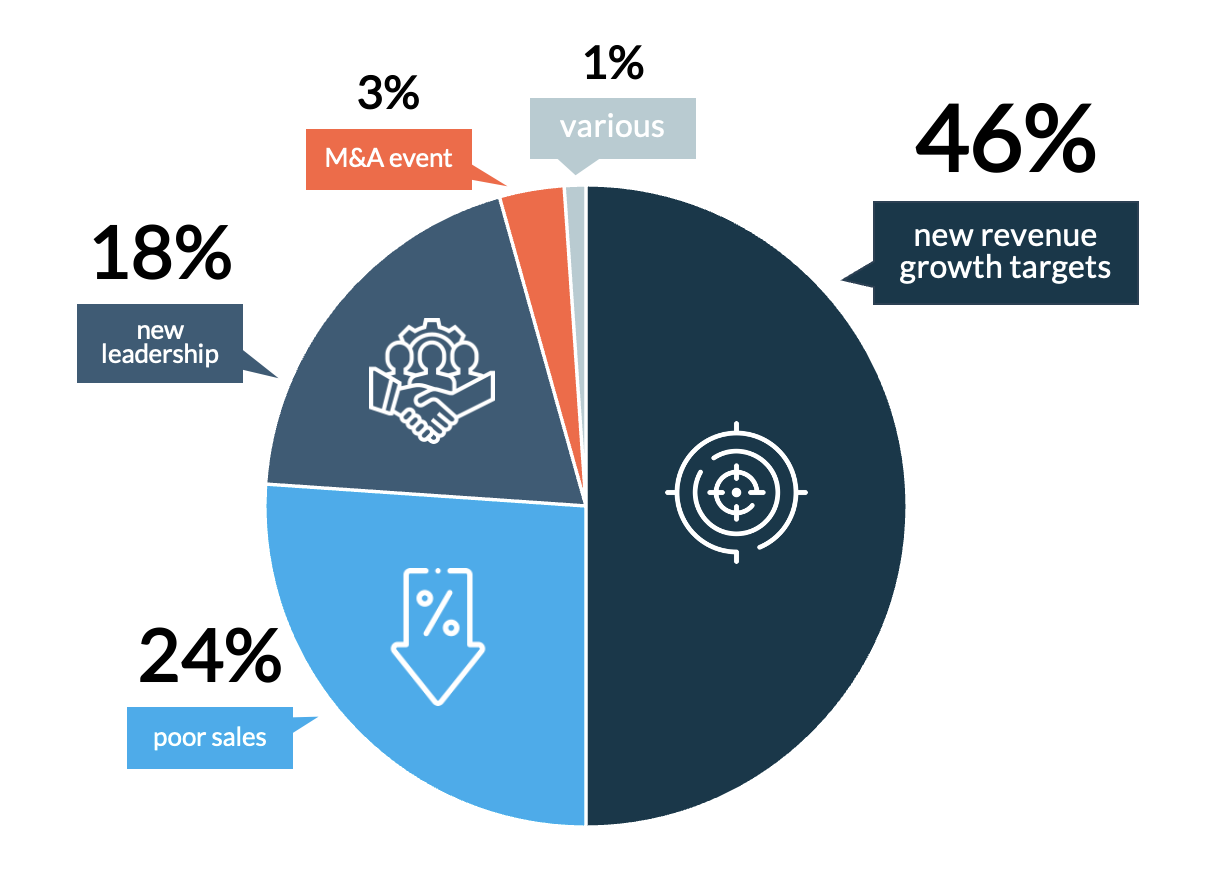 The drivers might not necessarily be mutually exclusive and they often "bleed" into one another. But overall, the results make sense to us.
Transformations are not usually about desperate survival measures, but unprecedented growth. They're not about avoiding bankruptcy but seizing opportunities. Some are driven by outside forces and others by internal factors. But behind every successful sales transformation is one or more key drivers that served as a powerful motivation to change.
What drives a successful sales transformation is a "burning platform," a compelling vision, a robust, adaptable communication strategy, top-down buy-in, a defined roadmap and implementation plan, and the will to stick it out, day after day.
Contact us to find out more about what leading sales organizations are weighing as the biggest drivers of transformation.
About The Author

Warren Shiver is a Partner at The Brevet Group, a management consultancy focused on end-to-end improvement in sales force effectiveness. Warren's leadership has helped numerous organizations build high-performing sales teams focused on the right go-to-market strategy, disciplined sales process, and well-designed enablement tools.