Brian Williams, PhD
Sharpening Your Deal Champion Strategy
Customer cost-cutting and market uncertainty continue. For sales teams, this means slower deal velocity and even more 'no decision' losses. The answer? Doubling down with your Champion to move deals forward.
Champion activation involves the who, the what, and the how.
Identifying 'who' can be an effective advocate for your solution is the first step. Be skeptical and fight the bias to see someone friendly as a true Champion. You can validate that you have a solid Champion with our Champion Candidate Assessment here.
Too many sellers stop here. Even with a strong Champion, most Champion-driven sales strategies fall short.
Effective Champion activation also focuses on 'the what'. The best sellers obsess over surfacing potential deal momentum killers early. Our Champion Activation Model defines the four elements of 'the what':
People: The full stakeholder landscape and related people dynamics
Position: The 'angle of attack' for our competitive strategy and differentiated message
Process: The details of the decision and implementation process
Partnership: The tactical actions for increasing Champion confidence and sense of personal ownership in the outcome
Seeing your Champion strategy through the lens of these 4 P's is critical to moving decisions through today's messy buyer journey.
But the best sellers go further with details around 'the how'. This means co-creating a set of mutual commitments between you and your Champion. In the early stages of the opportunity, these actions are mainly about filling information gaps. That also includes validating and aligning the perspectives from multiple influencers.
Later, 'the how' actions center on communicating and reinforcing your competitive message: why should the buyer select you and your solution vs. a competitive alternative (or doing nothing)?
Champion activation involves thinking through 'the who', 'the what', and 'the how'. And don't see it as a static, one-time exercise. In most deals, it's really a continuously evolving set of activities.
We know it can be a lot to work through and keep track of. To help guide the process, we've created a free workbook for you and your teams. Click the image below to download this resource.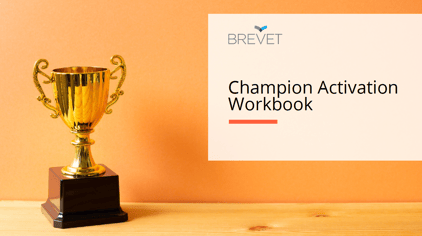 Driving Deal Success Today
Many sales teams are hitting hurdles they've not seen in a decade. But the most effective are leveraging Champions as true partners in the deal strategy and close plan. Use our Champion Activation Model to get the most out of your Champion relationships.
We're working with many clients to introduce and elevate Champion selling skills, strategies, and coaching. Contact us to discuss ways we can help your team master this essential capability of modern selling.
About The Author

Researcher, consultant, and sales leader, Brian uses a data-driven approach to drive sales effectiveness. His clients include leading sales organizations in financial services, technology, healthcare, and professional services. Using insight from academics and change management, Brian helps senior leaders and sales enablement teams understand and succeed in today's more demanding market. His research has been published in Harvard Business Review and other outlets.