Ralph Grimse
We were recently with a Chief Revenue Officer who was complaining about her reps' bad customer conversations. She talked about her attempt to standardize messaging – the insights, the value statements, the differentiators, disrupting the status quo. But none of these things seemed to be working.
As the discussion continued it became clear that her team wasn't having business conversations.
What did she mean by business conversations? How is that different from an 'insight conversation' or a 'consultative conversation' or a 'value conversation'? Let's break it down.
What's a Business Conversation?
A business conversation is a discussion about the external forces impacting the prospect. It also covers the implications of those forces on the internal aspects of the prospect's business. Finally, it provides the bridge to connect a customer's issues with your solution. A solid business conversation lays the foundation for effective consensus selling. It's the catalyst for gaining stakeholder alignment and driving mutual commitment to action.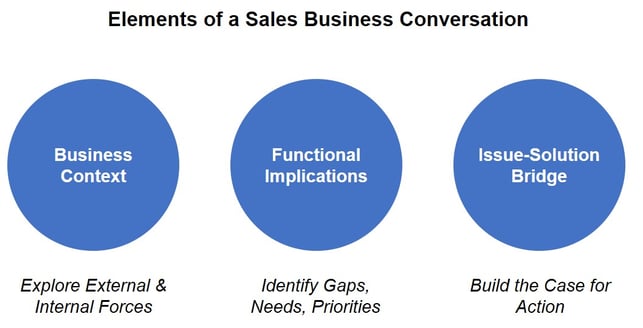 Of course, the importance of reps having good business conversations isn't a new idea. But too many sales reps continue to fall short in this area. Even the best sales professionals face two major barriers to executing business conversations:
The Client – Despite reps' best efforts to lead more business-level discussions, buyers can be quick to pull them into weeds. Many are hungry for the product and technical details, the demo, the specifics around pricing, implementation, configuration. It's hard for any rep to resist this pressure.
Rep DNA – Most reps are wired up to find a fit for whatever they're selling. The old 'hammer looking for a nail'. They're naturally inclined to promote their offering against a particular customer gap or issue. This makes it a real challenge to elevate to a broader business-level dialogue vs. jumping too quickly into a narrower discussion of their offering. It's difficult for reps to be disciplined in their approach.
From a seller perspective, a business conversation must start with an outside-in mindset. Reps must focus on understanding the prospect's or customer's world: their industry and market as well as the internal dynamics of the organization.
Depending on your solution and your buyers, the depth of the business conversation will vary. It's a universal truth that every sales team wants to sell higher in the organization and offer more solutions.
As a general rule, we advocate for the 'Level Up' model. Your sales reps need to be capable at executing a business conversation with their core buyer and at least one level higher. If the buyer is the Director of Network Infrastructure in the IT function, your sales reps need to be equipped to talk to that buyer and the CIO, at a minimum. If you sell to the VP of Compensation and Benefits, the reps should be able to conduct a CHRO business conversation, and so forth.
The Key to a Business Conversation
Business conversations aren't linear or scripted. They vary based on a number of situational factors. Business conversations don't follow just one pre-planed talk track, but there is a framework. Insight is important, but it's more than just knowing interesting stats. A business conversation is built on a foundation of business acumen. Executing these conversations require reps to use a different set of skills – some we highlighted here and here.
Many sales organizations organize by industry verticals. Why? One of the main reasons is that industry short-cuts the process for having business conversations. A sales team organized in verticals helps sellers have business conversations because reps learn the issues, terminology, buying centers, uses cases, etc. for one industry context. That knowledge is acquired and applied in similar situations with other customers, increasing the value that a rep delivers (sounds a lot like a consultant, by the way).
But having a business conversation goes beyond industry. It drills into the functional area in which you're selling. Do your reps know what good looks like in the function they're selling to? For instance, if you sell marketing automation software, how many of your reps know what a 'good' marketing function looks like?
What are the key roles, responsibilities, and workflows? How does the work get done?
What does marketing leadership worry about? What's on their MBOs this year?
What expectations does the rest of the organization have on marketing?
How does a marketing team solve problems or make decisions?
What distinguishes a high performing marketing function from a low performing one?
And on and on…
This level of understanding goes much deeper than typical veneer buyer personas. It enables reps to see the forest through the trees. They can connect the dots and zoom in on the gaps that might exist within a prospect. To drive larger deals, it also lets them see the interconnection points to other functions that may have input on issues. These gaps and connection points can be exploited with their message and solution. That's how business conversations turn into deals.
Now it's unrealistic to think that every rep can be a former management consultant or will have spent 10 years working in the function they're now selling into. There are more practical ways to equip reps to have quality business conversations. Business acumen is important, and we see many companies introducing business fundamentals in their standard sales training. But high-performing sales organizations are also adopting business conversation methodologies: structured processes and toolset for guiding reps.
Too many sales professionals can't have business conversations, and it's impacting win rates and deal sizes. Modern selling starts with helping reps elevate their dialogue.
Contact us to learn more about our approach to helping teams move from product-centric sellers to business advisors.
About The Author

Ralph is a partner with The Brevet Group, and for 20 years he has led sales performance teams in the United States and Asia. Recently he also served as a sales leader in both the media and technology industries. Ralph's work has focused on a unique blend of management consulting and sales enablement to help companies execute their sales strategies. Prior to this role, Ralph was the APAC sales effectiveness leader at Mercer.