Ralph Grimse
It All Begins With The Modern Selling Mindset
Modern buying has fundamentally shifted all aspects of traditional sales. Reps need a new mindset, skillset, and toolset to compete today.
Yes, the core skills are still necessary – building rapport, listening, and communicating well. These standards have been around for decades and aren't going anywhere. But they're not enough anymore. The table stakes have changed – requiring sales reps to have greater business acumen and situational awareness.
In fact, if your sales reps aren't exhibiting these new capabilities in modern selling, what value are they adding to your customers? By not interacting with sales reps that have these attributes, customers might as well buy your product online. Transactional sales like this are perfectly fine. We're not discounting this contemporary approach. In certain sales models, it's exactly the experience customers want and can reduce the cost of the product significantly.
But if your customers can't buy your offerings online – or if you can't realize the full economic value of your solutions in this model – then the new table stakes apply. To execute a value-based sale, reps need modern selling capabilities. A new sales rep profile is required for success in this ever changing, more dynamic, more complex selling environment.
It all begins with the modern selling mindset. Mindsets aren't narrow competencies easily measured on a defined scale. They represent the areas of expertise and knowledge needed to deliver the right outcomes for buyers and the sales organization.
There are three modern selling mindsets sellers must master to be effective.
1. Commercially Savvy.
Being commercially savvy means understanding the buyer's business and industry at a macro level. Commercially savvy reps ask:
What's the broader context of my customer conversation?
How does my solution address the most important business issues of my customers?
How do I position my solution in the context of my buyer's macro industry environment?
For example, imagine Chris is selling an enterprise SAAS solution. Being commercially savvy means Chris can frame his product in the context of his customer's business objectives. He can communicate benefits and ROI in commercial terms that matter to senior executives. He knows how his solution adds value to the business, not just any single function – including any integration points across other functions. And, very practically, Chris knows what a good deal looks like for his company.
Commercially savvy sales reps have business acumen and curiosity about the root cause of a customer's problem or missed opportunity. Commercial savvy also involves core analytical skills to build a business case using data. Chris can position the business issues to his customer in an analytical context. And he can use data and insights to build his case for change.
2. Professional Guide
.
One of the most important mindsets of the modern seller is understanding the importance of guiding buyers, rather than selling to them.
High-performing sales reps today must be more facilitator and change agent than one-dimensional pitch person or golfing buddy. They must be advisors in the decision making process, helping buyers clarify their problem and path forward. To do this well, they must gain the customer's confidence and trust before selling to them.
Susan is a rep we know for a health services company. Her customers are highly resistant to her product because it involves near-term disruption and work, even though the long-term benefits are significant. To win her complex deals, she sees herself as a "Sherpa." She prepares her customers for the change journey, builds alignment across the stakeholders, and walks the buyers step-by-step through the selling process. One delighted customer referred to Susan as a "human GPS" because of the way she effectively navigated them in the confusing and complex selling process.
3. Deal

Adaptability.

Finally, sales reps need to be nimble, recognizing shifts in the key situational factors in their deals. Based on changes in the factors, they must also pivot or adjust the selling actions and messages to keep things moving forward.

The best sales reps know that any original opportunity strategy is only a blueprint. The plan will need to adapt to reflect new information, additional stakeholders, or shifting organizational priorities. The modern sales rep embraces this uncertainly and the need for ongoing pivots before they sell.

One of our clients in the logistics sector has transformed their results by arming their sales reps with the modern tools to pivot. As buyer risk avoidance increased, deal timelines expanded and more decision-makers were added to the mix. A straight, narrow buyer decision journey became a messy, non-linear path. The company's reps now embrace the messiness of their deals. They have the mindset to ask: what's going on now and what's my next pivot?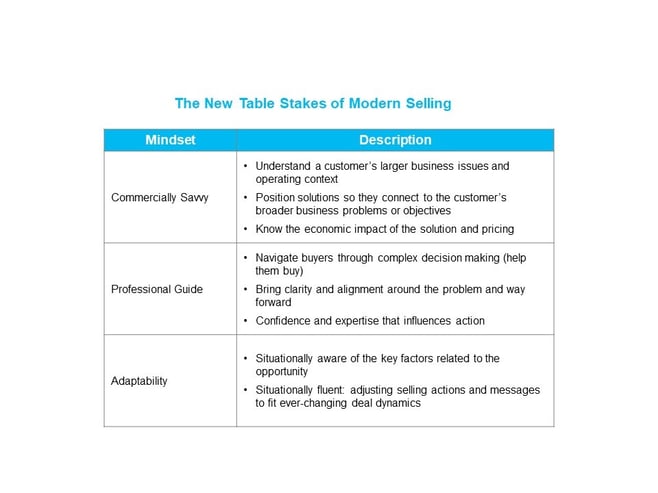 These three mindsets start to paint a more granular picture of the rep of the future. And they have important implications for sales leaders, front-line sales managers, and sales enablement. Some reps have these mindsets innately, but most don't.
Evaluate your teams against these three critical mindsets. Chances are, your high performers will score pretty well. As a practical first step, evaluate how your current modern training and tools to see how they support to these concepts. Moving forward, use the three mindsets to build a more effective plan to win in today's selling environment.
These three mindsets drive specific critical skillsets and tools, which will we cover in more detail in future blogs.
A new mindset for sales has many implications for sales enablement, from hiring and onboarding to modern sales training and compensation. We'd love to share our latest insights. Contact us to learn more and win more.
Catch up on last week's blog about how to avoid sales enablement growing pains, and check out additional blogs here.
About The Author

Ralph is a partner with The Brevet Group, and for 20 years he has led sales performance teams in the United States and Asia. Recently he also served as a sales leader in both the media and technology industries. Ralph's work has focused on a unique blend of management consulting and sales enablement to help companies execute their sales strategies. Prior to this role, Ralph was the APAC sales effectiveness leader at Mercer.