Brian Williams, PhD
Introducing More Sophisticated Sales Enablement Solutions
Sales enablement teams continue to make themselves essential to winning sales organizations. But with that success comes ever-increasing demands from sales leaders and the field. In some ways, these teams find themselves victims of their own great work. Many are struggling to manage an escalating volume of projects and a rising set of expectations. Introducing more sophisticated sales enablement solutions while also managing a growing day-to-day workload is a real challenge.
So how can sales enablement continue to mature without being weakened by growing pains? How can they elevate their strategic impact while still delivering on the core?
It all starts with a clear view of the function's positioning along the sales enablement maturity curve. Is this a young sales enablement team? Has it been established for years, operating like a well-oiled machine? Sales enablement's influence grows over time, but progression up the curve can take years.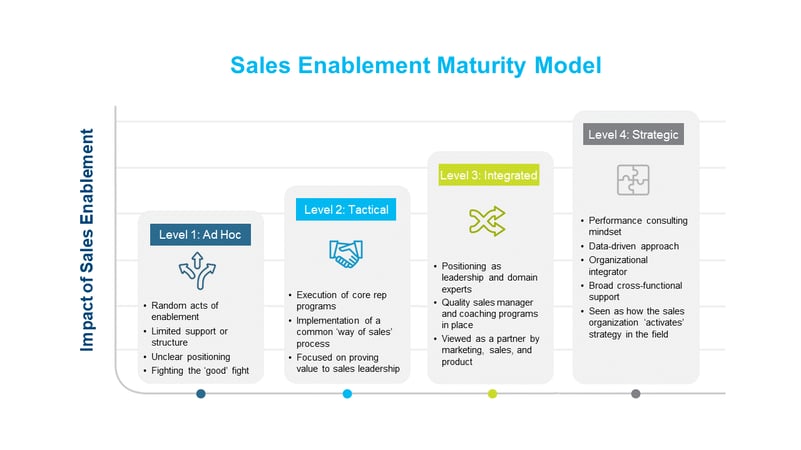 Moving from one level to the next is never a simple and easy path. As with many journeys, sales enablement teams risk hitting pot holes and taking a wrong turn. There are three common missteps in the growth process we've seen:
1. Attempting too many initiatives at once. No matter where you are in the maturity curve, only take on efforts your team can execute flawlessly. Avoid the trap of a "concierge mentality" – in other words, don't always say "yes" to any and all new requests. An internal customer service mindset is admirable, but it can be major barrier to long-term growth. Once you take on a new project, more than likely, you'll have to keep it going. There's rarely such a thing as a one-time initiative. Anything new will be quickly added to your long list of ongoing tasks. Much like juggling, don't add additional balls until you're sure you can keep them all in the air.
2. Trying to jump two levels at once. A reality of the maturity curve is that you must advance one level at a time. Establishing success at one level is required to gain movement to the next level. You simply can't leap over an entire step without a proven track-record at a preceding level. We see so many new enablement teams eager to reach the strategic level. While they may only be at the ad hoc or tactical level, they attempt to execute projects at the strategic level. Unfortunately, these enablement teams end up failing because they don't have the right foundation in place.
3. Not sequencing the initiatives correctly. As much as your sales organization may need deep analytics, those reports won't mean anything if you don't have the basics of enablement right. The foundational requirements must be covered well before any team can offer more advanced solutions. In the early stages of enablement, the priority should be on putting a strong process and methodology in place. Later-stage programs, like manager coaching programs and messaging, will need a solid methodology foundation to work. Many might aspire to be a true performance consultant for the sales organization. But without execution around the basics of sales enablement, you'll have no standing to engage in more strategic areas.
We recently worked with a large sales enablement team who was very successful at the tactical level. They had the sales enablement function up and running. The CSO was looking at thier sales enablement solutions. So naturally this client was ready for more. The enablement leader asked, "How do I get to the next level? How do I decide which initiative to prioritize?" There is no one answer to these questions, but taking a thoughtful approach to building the growth plan was key.
As you chart the growth of the sales enablement function, consider three additional points:
1. Find your initiative. Pick your priorities in terms of the impact, but also something that realistically aligns to your current maturity level. What one area could make the biggest difference in your sales organization? How long is it going to take you to make this happen? What is the ultimate value to the sales results?
It's a harsh truth: sales enablement doesn't get multiple at-bats with sales leaders, and certainly not with the field. To maintain credibility, identify what you're already doing well and build on that success. At the same, define the major barriers to executing the priorities. Have a realistic view of what might get in the way of success and have a plan to mitigate the risks.
2. Find your sponsor. To achieve long-term success, you'll need executive support for sales enablement and your initiatives. Find your sponsor and remember the importance of getting everyone on board.
In the early days of enablement, it's common to not have a strong internal sponsor, or at least not one that views the function as strategic. In this case, you need to apply the same skills you teach your account executives: identify and develop a champion. Ideally, your sponsor is a power player in sales leadership, but we've seen some of the best enablement advocates come from marketing or even finance.
3. Build a business case. This includes defining the ROI and other measurable benefits of your activities. It may focus on higher rep engagement, adoption of the sales methodology, or whatever is most impactful for your group.
The specific KPIs will differ depending on your maturity. Early-stage teams focus more on NPS-like scores from training or other programs. Later, they shift attention more to behavioral metrics. But at the later stages of enablement maturity, the strongest focus is given to those lagging indicators that matter most to senior executives.
It's not enough to react to the latest requests of the sales organization or flawlessly deliver on the basic tasks. The bar is rising every day, and sales enablement leaders need a combination of savvy and strategy as they run the daily operations while moving up the maturity curve. It can be a lot to manage, and for many, a thankless job. But the professional rewards and organizational benefits are worth it.
Successful sales enablement solutions and growth of sales enablement organizations requires thoughtful planning and execution. We'd love to share our latest insights on how sales enablement can drive effectiveness and become critical advisors to their sales teams. Contact us to learn more and win more.
Catch up on last week's blog about overlooked sales training vital for modern selling and check out additional blogs here.
About The Author

Researcher, consultant, and sales leader, Brian uses a data-driven approach to drive sales effectiveness. His clients include leading sales organizations in financial services, technology, healthcare, and professional services. Using insight from academics and change management, Brian helps senior leaders and sales enablement teams understand and succeed in today's more demanding market. His research has been published in Harvard Business Review and other outlets.