Ralph Grimse
Sales Enablement Maturity Model
"If you've seen one sales enablement team, you've seen one sales enablement team."
Despite the growth, we're still very early in the maturity of sales enablement. And this leaves many organizations confused about how to organize, staff, and measure the function.
Two of the most common questions we continue to get from CEOs, CROs and CMOs is: "What should sales enablement be responsible for?" and "How should it be staffed and compensated?"
This is progress!
The questions are no longer, "What is sales enablement?" or "Why is sales enablement important?" Instead, the questions are focused on execution and organizational details. Many leaders want to better understand the lines between sales enablement and other functional areas (product marketing, field marketing, sales operations, learning and development, human resources, etc.). And nearly all are grappling with how to best organize enablement to achieve the larger business objectives.
As the sales enablement function continues to mature, more consistent designs for the function will emerge. We've seen similar evolutions in the finance and HR functions. The bottom line is, sales enablement is here to stay, but a standard framework is needed to think about how it should be organized, staffed, and operated.
Our work and research finds that the most effective Sales Enablement Operating Model relies on three pillars:
Enablement Partners
Enablement Services
Enablement Centers of Excellence
These pillars are put in place to drive efficiency, consistency, and effectiveness of the function. Properly establishing a Sales Enablement Operating Model helps to clarify the function's responsibilities as well as the workflows and cross-functional collaboration.
The operating model of any sales enablement function is a constant work in progress. The best teams refine their model at least annually in partnership with leadership. The goal is to position the team as a strategic and proactive performance consulting function, rather a reactive training function.
Brevet Sales Enablement Operating Model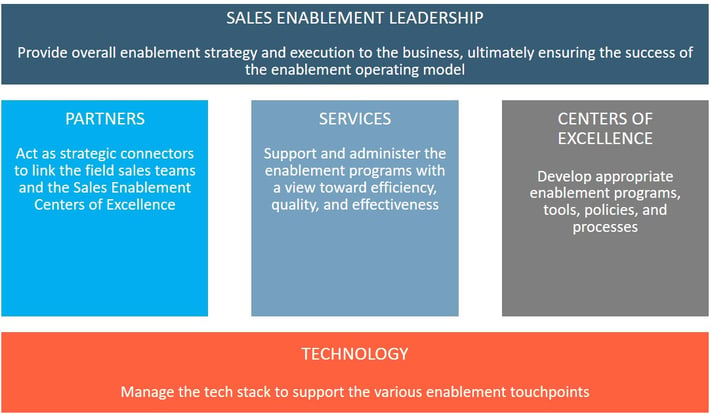 Sales Enablement Leadership: Provide the overall enablement strategy and execution to the business, ultimately ensuring the success of the enablement operating model
Pillar 1: Enablement Partners: Act as strategic connectors to link the field sales teams and the Centers of Excellence
Focus: Alignment
Pilar 2: Enablement Services: Support and administer the enablement programs with a view toward efficiency and quality
Focus: Operational Excellence
Pillar 3: Enablement Centers of Excellence: Develop appropriate enablement programs, tools, policies, and processes
Focus: Development
Technology: Manage the tech stack to support the various enablement touchpoints
The three pillars are the core of the operating framework. They work in tandem with sales enablement leadership and technology to strategize, design, and deliver performance improvement services to the sales organization.
Breaking Down the Pillars
What each sales organization chooses to take on also varies significantly. Our research highlights some of the most common focus areas of the three pillars and how they align to the operating model. In the more established sales enablement functions we see the three pillars involved in the following activities:
Enablement Partners
Strategy: Partner with all corporate functions to identify how the enablement strategy aligns and supports the sales strategy of the business units
Performance Improvement: Analyze and deploy field-based resources that engage the field with content and coach to improve sales performance
Program Management: Project management resources to work within enablement and across functions to support sales initiatives
Enablement Services
Learning Development and Delivery: Develop and execute learning content covering product training, technical training, and skill training
Content Management: Maintain the repository of sales content and collateral, and track content effectiveness
Communications: Manage the field sales communication channels and key messages
Meetings and Events: Logistical organization of key sales meetings, ranging from national meetings to regional workshops
Enablement Centers of Excellence
Talent Management: Partner with other functions to build competencies, analyze turnover data, and recommend interventions to mitigate the level and impact of sales churn
Onboarding New Hires: Execute the new hire onboarding program, including working with sales management to ensure field adoption and reinforcement
Manager Effectiveness: Manage the sales management curriculum to support effective onboarding and continued high-performance among all sales leaders
Sales Methodologies: Own the process and tool elements of the company's 'way of sales' and work to integrate with other enablement activities
Sales Messaging and Content: Develop the sales messaging and related content material used by the field, typically working in partnership with the organization's Marketing and Product teams
Technology
Technology Tools: Source, maintain, and monitor all sales-facing technology and related tools. This work includes advising on the right tools to support the broader enablement strategy while minimizing tech 'noise' in the field
The functional responsibilities of a sales enablement team and the deployment of the operating model can vary significantly from organization to organization. Large, global organizations wrestle with the right level of centralization vs. decentralization in each of these elements. The level of global standardization will also vary by industry.
Smaller organizations will likely run a centralized operation but may not have the resources to deploy services across all the elements or as deep. Many smaller enablement teams focus on doing just a handful of the common enablement functions.
Summary
As our research continues, we expect to see common patterns emerge. We expect these patterns will be linked to factors such as industry, geography, size, and growth stage of company.
Our upcoming sales enablement survey will dive deeper into the organizational models being deployed as well as tackle important questions like: "Who does Sales Enablement report to?" "Where should product training sit?" and "Who should be responsible for sales turnover?"
Reach out for a more in-depth discussion on the Brevet Sales Enablement Operating Model and how we can help position your organization for success.
We're a sales consulting firm that provides sales enablement training and services that delivers the best customized solutions to help clients improve their skills to sell smarter.
About The Author

Ralph is a partner with The Brevet Group, and for 20 years he has led sales performance teams in the United States and Asia. Recently he also served as a sales leader in both the media and technology industries. Ralph's work has focused on a unique blend of management consulting and sales enablement to help companies execute their sales strategies. Prior to this role, Ralph was the APAC sales effectiveness leader at Mercer.