Ralph Grimse
Having trouble making your sales training concepts "stick"? Here's the step you're missing.
If you're like most companies (94%, to be exact) you're investing a substantial amount of time, money, and resources into some form of sales training. In fact, about half of all companies spend as much as $5,000 every year to provide training and professional development programs for their sales reps. When you multiply that cost by dozens or even hundreds of sales reps across the organization, you begin to understand just how substantial this investment can be.
Given the situation, it is not surprising that most managers are looking for tangible performance gains shortly after a rep completes their training program, but popular research suggests that the majority of training content never makes it into a rep's common practice. So, what is a senior sales leader to do? Thankfully, observing a handful of best in class sales organizations has opened our eyes to the answer.
But first, let's start by getting a better understanding of the problem…
The Ugly Truth of Most Sales Training
As they assess current sales training landscapes, researchers often conclude that most traditional forms of sales training just don't work. Sure, organizations may see a boost in performance for a limited time following the training session, but in most cases a salesperson will quickly regress to their prior performance level. In the worst cases, sales training programs can actually introduce or reinforce bad selling behaviors rather than instill best practices.
As we mentioned before, industry research supports this claim. Consider the following statistics about the true impact of most sales training programs:
An ES Research study found that approximately 90% of all sales training has no lasting impact on professional behavior.
Research conducted by Xerox showed that 87% of the new knowledge learned in sales training is lost within 12 weeks.
Similarly, Sales Performance International research found most sales professionals forget at least 50% of what they learned in training programs in less than five weeks… 84% is lost after only 90 days.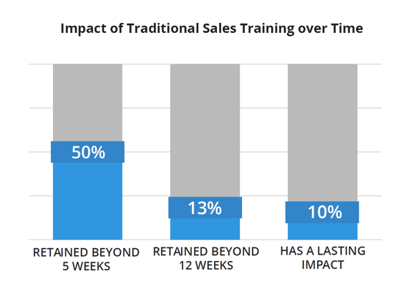 It's clear that good intentions alone are not enough to get the concepts from conventional sales training programs to "stick." Thankfully, recent advances in brain research and adult learning principles provide us with insight into what it takes to drive meaningful behavior change within a sales organization.
Getting Real About Sales Training Effectiveness
Let's face it, most sales training is – we'll be kind and call it "conceptual." While it may look good on paper, the key ideas aren't presented in a way that empowers reps to apply them in their day-to-day experience. As you walk around your office or participate in ride-alongs, how many reps do you see carrying that binder of PowerPoint slides from your last training class? How many are referencing the worksheets that were provided in the classroom during a meeting with a potential customer?
What we've found through our experience working with clients is that, independent of organizational size or industry vertical, the highest performing salesforces we interact with all have a training program that goes beyond the traditional model of lecture, discussion, and team-based activities. Instead of ending when participants walk out the door, a truly exemplary training program lives on through a focus on practical application. Where other programs send reps off with a message of "Go forth and do good things," the best companies have a structured post-training practice and evaluation program that reinforces the concepts learned at the live event.
As we learned before, most of the lessons learned at a live training event are forgotten within 90 days of participants returning to their office. However, sales organizations can slow down or even level out this "brain drain" by funneling program graduates directly into a post-training reinforcement sequence. In fact, establishing an application-oriented training system that challenges reps to continue to practice key concepts is the single most critical component to maximizing the effectiveness of sales training programs.
After returning home, participants should be prompted to use provided job aids to practice applying the skills they have learned in a roleplay setting or real-world scenario. As an added reinforcement measure, this practice should be coupled with consistent and structured feedback, particularly on their delivery of key messages and application of training strategies. A post-training reinforcement program that incorporates both of these components is the lynchpin to making sales training truly effective.
Knowledge Attainment vs. Behavior Change
The primary reason that most conventional sales training programs fail to translate into actual behavior change is information overload. The experience for the average sales training program participant is summarized best by neuroscientist David Rock, who said that many corporate training programs are, "the mental equivalent of trying to eat a week of meals in a day." In other words, they are akin to the popular proverb of "drinking from a fire hose."
Rock's point becomes increasingly clear when you try to think of a learning experience where you mastered all the necessary skills in a single training event. Whether you're trying to learn how to play the guitar, perfect your golf swing, or wrap your head around complex mathematical concepts, you won't be able to master the skill in just one training session, regardless of its length. Instead, you need to combine foundational knowledge with an intentional plan for applying the new concepts in the form of dedicated practice. In an ideal scenario, you may also frequently meet with a tutor or a coach whose job is to provide feedback on your progress and suggest corrections to your technique.
So why do organizations treat sales training differently? For example, it's simply unrealistic to assume that sales reps will adopt a new consultative selling approach to interacting with customers after just one training event. Instead, reps should be asked to internalize the lessons learned at a live training event. Reps should practice them multiple times over the following days, weeks, and months. This consistent exposure to new skills and concepts is an integral part of transforming the short-term performance boost of conventional training programs into lasting behavior change.
Taking the Next Step
Many sales leaders and trainers will initially view the transition from a traditional sales model to an application-based reinforcement program as an insurmountable hurdle, but advances in sales technology have made the process easier than ever. Products like our PointForward software enable organizations to stand up a video-based practice regimen within weeks rather than months. As an added benefit, the administrative dashboard behind PointForward allows sales leadership and training teams to quickly adapt to changes in the selling environment by adding new content or exercises for sales reps to complete.
As you consider launching or improving your sales training, challenge yourself to assess the balance between knowledge attainment and behavior change as goals for your program design. When you begin to develop the training content, evaluate the degree to which you are delivering static versus situational content, especially as part of the application activities. The right balance of these factors, both during the live session and as part of a follow-up application program, will ensure your training investments have a lasting, positive impact.
About The Author

Ralph is a partner with The Brevet Group, and for 20 years he has led sales performance teams in the United States and Asia. Recently he also served as a sales leader in both the media and technology industries. Ralph's work has focused on a unique blend of management consulting and sales enablement to help companies execute their sales strategies. Prior to this role, Ralph was the APAC sales effectiveness leader at Mercer.