Brian Williams, PhD
Four Steps to
Sales Enablement
Maturity
Many CSOs ask us to rate the effectiveness of their sales enablement functions. It's a tricky question because "effectiveness" can be relative. What is the CSO's vision for sales enablement? How long as the function been in place? What resources or budget have they been given?
The concept of sales enablement has exploded, and you could argue it's nearing the peak of the hype cycle. Early excitement is being replaced with new emotions: confusion, disappointment, even frustration. For some CSOs, there's a nagging concern that sales enablement isn't delivering. Others don't even know how to begin to measure their team's success or failure.
Our view is that evaluating sales enablement starts by understanding where the function is in its maturity. Every sales enablement team is at a unique point in their own development. Sometimes this tracks with the maturity of the sales team and the sophistication of sales leadership. Other times, it doesn't. Brevet's Sales Enablement Maturity Model provides a framework to guide CSOs and their enablement teams.
Our Sales Enablement Maturity Model has four levels representing the typical progression of the function. The velocity of progression may differ dramatically across companies. But the path to world-class sales enablement begins with an honest assessment of today's reality.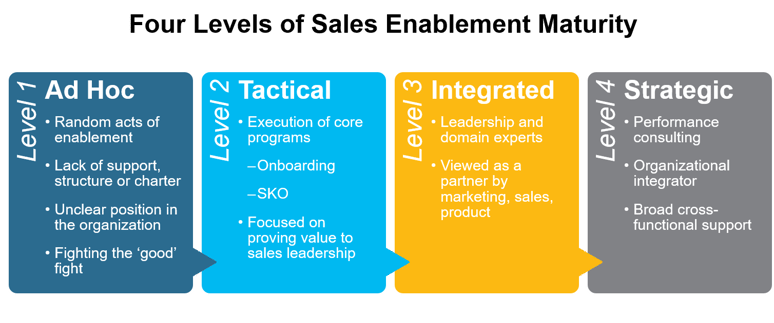 Level 1-Ad Hoc: At this base level, sales enablement has a narrow concentration on training execution. Typically, this training is episodic, delivered on-demand. Product training is the primary focus. As sales enablement comes to life in an organization, the operating charter is fuzzy. Team members might be 'fighting the good fight', but the function lacks a systemic or proactive mindset. At this initial level, there can be a big disconnect between sales management and sales enablement. Much of this disconnect stems from its unclear position in the organization. Sales enablement can come across as just corporate sales overhead.
One clue to knowing where sales enablement is in their maturity is listening to the words spoken by the CSO. When enablement is at the Ad Hoc level, you might not hear much at all on this topic. In fact, the CSO probably finds the word "enablement" confusing: "What do you mean when you say 'sales enablement'?"
Level 2-Tactical: Moving up the maturity curve, sales enablement becomes a more defined function. Basic activities are standardized and more routine. In particular, sales training and onboarding programs are set in place and just 'run.' At this level, there's also a major emphasis on events, especially sales kickoff meetings. Sales Operations, Marketing or other functions 'dump' requests on the function. Sales enablement's perceived role is to push 'stuff' to the field. The CSO isn't thinking about sales enablement until something is broken or doesn't appear to 'run' well.
At Level 2, sales enablement operates as part of the sales management team, but they are seen as executional support. The most common thing heard from the CSO might be: "What's the agenda for SKO?"
Level 3-Integrated: Moving to Level 3 is a major milestone. At this stage, enablement programs are integrated with the overall sales strategy. At a practical level, multiple activities are anchored around a common methodology. The sales enablement 'tech stack' is robust, integrated with a solid CRM platform. The function also has a dual focus on improving both reps and manager performance. And the team is viewed as a true, multidisciplinary partner to Product, Marketing and Sales Ops. This level is defined by the strength of the enablement team's internal credibility. They are seen as field execution experts, but also folks with solid sales domain knowledge.
Level 3 sales enablement means leadership views the function as the 'go-to' resource for field activation. They've earned a seat at the table and their opinions matter. At this level, the CSO might say to the sales enablement leader, "Let's meet to talk about my initiatives for next quarter?"
Level 4-Strategic: The highest level of sales enablement means the function has evolved to be fully strategic. Even for well-established functions, achieving this level is a unique accomplishment. Beyond training, messaging, or process experts, a Level 4 sales enablement team is seen as an organizational integrator. Enablement technologies are embedded as the sales operating system. These teams also have additional performance consulting capabilities. This type of resource leverages data to make informed recommendations to increase sales productivity. Strategic sales enablement teams view their mission as implementing the corporate strategy through the sales team. They have a pulse on the field, constantly assessing gaps and tailoring programs to drive results.
At Level 4, sales enablement will lead the conversation with the CSO vs. being seen as a service function. Sales enablement as performance consulting measures the impact of their programs with metrics the CSO cares about. You know sales enablement operates at this level when the CSO is heard saying, "Can I get an update on where we're focused for the next quarter?"
Your Sales Enablement Roadmap
Evolving from order-taker to sales performance consultant is the key to the function's success. When sales enablement operates at Level 4, CSOs (and CEOs) pay attention. A virtuous cycle emerges: sales enablement is strategic and generates results, resulting in more resources, which leads to more business impact. The cycle continues.
The truth is, most sales enablement teams are at the early stages of their maturity. The move to Level 4 doesn't happen overnight and not without a plan. Contact us to map your current state and to strategies that can accelerate your progress to Level 4.
About The Author

Researcher, consultant, and sales leader, Brian uses a data-driven approach to drive sales effectiveness. His clients include leading sales organizations in financial services, technology, healthcare, and professional services. Using insight from academics and change management, Brian helps senior leaders and sales enablement teams understand and succeed in today's more demanding market. His research has been published in Harvard Business Review and other outlets.